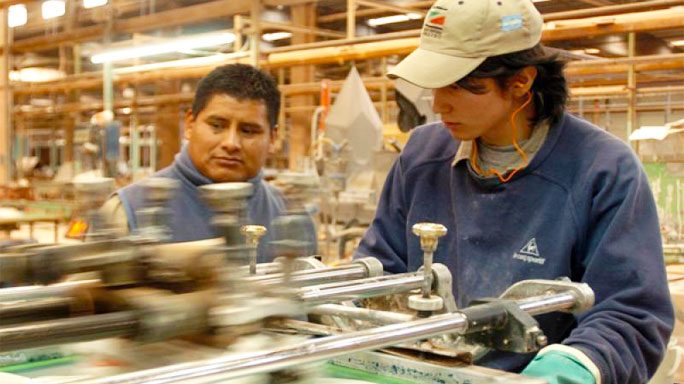 Regulatory reforms and other policies are needed to improve the quality of non-standard jobs, a new ILO report says.
The report,
Non-standard employment around the world: Understanding challenges, shaping prospects 
, highlights the policies needed to improve the quality of non-standard jobs. The report finds that there has been a rise in non-standard forms of employment (NSFE) globally, including increases in temporary work, part-time work, temporary agency work and subcontracting, dependent self-employment and disguised employment relationships.
"Non-standard forms of employment are not new, but they have become a more widespread feature of contemporary labour markets. We need to make sure that all jobs provide workers with adequate and stable earnings, protection from occupational hazards, social protection and the right to organize and bargain collectively," said Deborah Greenfield, ILO Deputy Director-General for Policy, "and that employees know the identity of their employer."
Non-standard jobs can provide access to the labour market. In addition, while they can provide some flexibility to workers and employers, the report cautions that NSFE is often associated with greater insecurities for workers. In countries where NSFE are widespread, workers risk cycling between non-standard jobs and unemployment. Workers in temporary jobs can face wage penalties of up to 30 per cent compared with standard workers performing similar jobs.
In some cases, particularly where contractual arrangements have blurred the employment relationship, there is evidence that workers have difficulty exercising their fundamental rights at work, or gaining access to social security benefits and on-the-job training. Injury rates are also higher among workers in NSFE.
NSFE can have important and underappreciated consequences for businesses. "Short-term cost and flexibility gains from using NSFE may be outweighed by longer-term productivity losses. There is evidence that firms that use NSFE more, tend to underinvest in training, both for temporary and permanent employees, as well as in productivity-enhancing technologies and innovation," said Philippe Marcadent, Chief of the unit that produced the report.
See more at: ILO