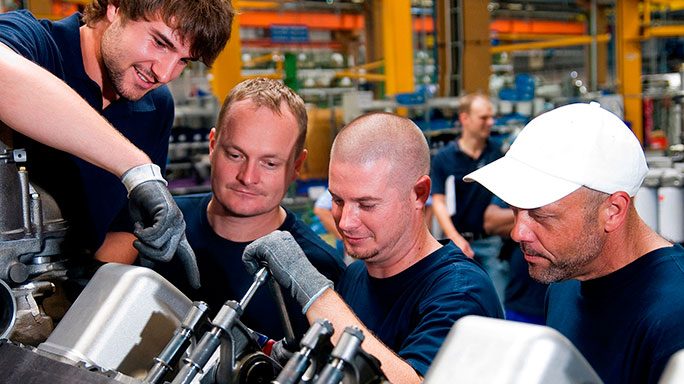 Fresh information on the health of the U.S. job market comes Friday morning, just four days before Americans elect their next president. Economists surveyed by The Wall Street Journal expect a solid jobs report for October, with nonfarm employers adding a seasonally adjusted 173,000 jobs and the unemployment rate ticking down to 4.9%.
1. A Modest Pickup
The pace of hiring has been uneven so far in 2016—monthly growth in nonfarm payrolls averaged 196,000 in the first quarter, then slowed to 146,000 in the second before rebounding to 192,000 in the third. Over the first nine months of the year, payrolls rose by an average of 178,000 per month, and economists expect October will come in around that level. While a solid pace of job creation, that would be somewhat slower than the robust hiring seen over the prior two years.
2. Jogging in Place
The unemployment rate has hovered at or just below 5% for the past year, pinned in place by a welcome increase in workforce participation. Economists think the jobless rate will tick down in October but remain within its recent range. Keep an eye on the labor-force participation rate, as well. It was 62.9% in September, up a half-percentage point from a year earlier, but likely won't rise indefinitely in the face of demographic headwinds.
3. Pay, Raised
A tighter labor market seems to be producing stronger wage growth. In September, average hourly earnings of private-sector workers rose 0.2% from the prior month and increased 2.6% from a year earlier, up from the 2% annual pace seen for much of the recovery. Economists anticipate a 0.3% increase in average hourly earnings in October from the prior month. "My hope and expectation is that we will see some further pickup in wage growth, and that it will be broadly beneficial to American households," Federal Reserve Chairwoman Janet Yellen said in September. More broadly, a decent jobs report could bolster the Fed's confidence in proceeding with an interest-rate increase at its December meeting.
4. Broader Pains
Low unemployment and continuous job creation don't tell the full story of the U.S. labor market. Pain lingers in the recession's long wake: As of September, 7.9 million Americans were unemployed, including two million who had been out of work longer than six months, and an additional 5.9 million people were stuck in part-time jobs because they couldn't find full-time work. A broad measure of unemployment and underemployment, known as the U-6, stood at 9.7% for the third consecutive month. Progress on any of those fronts in October would be welcome news.
5. Eye of the Hurricane
One potential wild card for Friday's report: Hurricane Matthew, which battered the southeast in October and potentially affected the household and establishment surveys used to generate monthly estimates for unemployment and payrolls. Morgan Stanley economists predict hurricane-related flooding and evacuations will shave 10,000 jobs from the October payrolls figure.
See more at:
Wall Street Journal